JOHNNY ALOHA TOUR DATES

► No tour dates are scheduled at this time.
(see tour history below)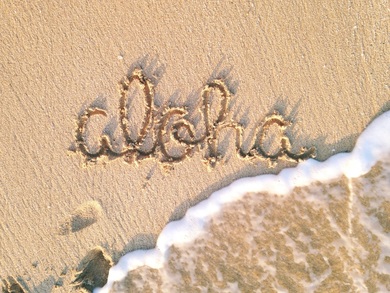 Look for Johnny Aloha merchandise at these annual tiki music events:
SLACK KEY FESTIVAL (January in Redondo Beach CA)
THE HUKILAU (June in Ft. Lauderdale FL)
LUAU AT THE LAKE (June in St. George NY)
TIKI OASIS (August in San Diego CA)
THE ORIGINAL TIKI MARKETPLACE (seasonally in Garden Grove CA)





---
HIRE THE BAND / BOOKING INFO
Johnny Aloha and his Lavapalooza band are available for private parties, corporate events, luaus, and weddings, in Hawaii or on the Mainland. For booking/hire information, please fill out the form on our CONTACT page. Be sure to provide the event date, location, and your complete contact info.






---
JOHNNY ALOHA TOUR HISTORY
2015
June 13 - Huntington Beach - Tiki Marketplace at Don The Beachcomber (meet and greet)

2011
February 25 - Anaheim - House Of Blues - Mini-set during Richard Cheese show

2010
August 22 - San Diego - Tiki Oasis Convention (meet and greet)

2009
February 13 - Honolulu - Pipeline (preview performance)





---
JOHNNY ALOHA'S HAWAIIAN VACATION TRAVEL TIPS
Visiting the islands of Hawaii?
Be sure to experience these classic Aloha destinations....
The Royal Hawaiian - Waikiki, Oahu
Honolulu's legendary pink hotel in the heart of Waikiki.
www.royal-hawaiian.com
La Mariana Tiki Bar - Honolulu, Oahu
One of the world's most authentic tiki bar experiences.
www.lamarianasailingclub.com
Aloha Tower - Honolulu, Oahu
The most famous building in Hawaii since 1926.
www.alohatower.com
Iolani Palace - Downtown Honolulu, Oahu
Elegant, historical, and the only royal palace in the United States.
www.iolanipalace.org
Chart House Restaurant - Waikiki, Oahu
Steaks and cocktails overlooking the Waikiki Marina (and the S.S. Minnow?) since 1969.
www.charthousewaikiki.com
Leonard's Bakery - Honolulu, Oahu
The home of malasadas pastries since 1952.
www.leonardshawaii.com
Diamond Head - Honolulu, Oahu
Hike to the top of Oahu's iconic volcanic landmark.
dlnr.hawaii.gov/dsp/parks/oahu/diamond-head-state-monument
Pacific Aviation Museum / U.S.S. Arizona Memorial - Pearl Harbor, Oahu
Visit the museums of the WWII Valor in the Pacific National Monument.
www.nps.gov/valr
Punchbowl (National Memorial Cemetery of the Pacific) - Honolulu, Oahu
Picturesque grounds and fascinating WWII exhibits.
www.cem.va.gov/cems/nchp/nmcp.asp
Volcano House Hotel - Kilauea, Big Island
A vintage hotel destination inside Hawaii Volcanoes National Park.
www.hawaiivolcanohouse.com
Lahaina Banyan Tree - Lahaina, Maui
Visit quaint Lahaina town and see the oldest tree in Hawaii, planted in 1873.
www.visitlahaina.com
Coco Palms Hotel - Wailua, Kauai
The 1950's tropical resort made famous in Elvis Presley's "Blue Hawaii" will re-open in 2018.
www.kauai.gov
---
JOHNNY ALOHA STAGEPLOT / TECH SPECS
The following information is for venue sound engineers and stage/production managers for Johnny Aloha live concerts.

FULL BAND STAGE PLOT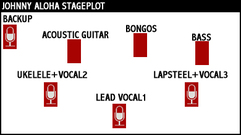 INPUT LIST

1 - Lead Vocal (Wireless)
2 - Lead Vocal Spare (Wired)
3 - Vocal #2 - Harmony
4 - Vocal #3 - Harmony
5 - Ukelele
6 - Lapsteel Guitar
7 - Acoustic Guitar
8 - Bass
9 - Bongos
10 - CD Player (for instrumental music audio playback)





JOHNNY ALOHA
® "JOHNNY ALOHA" IS A REGISTERED U.S. TRADEMARK #85081736.
(C) Copyright 1994-2018 Johnny Aloha / Coverage Records / World Art Supply.
All rights reserved. Unauthorized use, duplication, performance, or other copyright/trademark infringement is
a violation of applicable laws, and violators will be prosecuted to the fullest extent of the law.
www.johnnyaloha.com

​